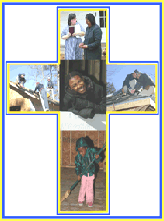 What is Habitat for Humanity?
Habitat for Humanity International is a nonprofit, ecumenical Christian housing program dedicated to eliminating substandard housing. Founded in 1976 on the conviction that every man, woman and child should have a simple, decent, affordable place to dwell in dignity and safety. Habitat has since constructed over 500,000 houses.
​
Our Habitat Affiliate - The Chowan/Perquimans Habitat for Humanity - was organized in 1996 and approved by Habitat for Humanity International in September of 1997.

We bring together families, volunteer builders and community resources to construct affordable quality housing. The Partner Family works on the construction as part of their "sweat equity" and pays for the house with a no-interest mortgage.

In 2020 we selected our 20th Partner family. Since 1996 we have built or renovated 12 houses in Chowan and 7 houses in Perquimans. Our goal is to give a "hand-up" to two selected families a year.
Are you, or do you know, a person who is in need of housing? To find out what it takes to qualify for a Habitat Partner Home and to begin the process, click on the menu buttons to download the forms.
Want to help a family's dream of home ownership come true? We invite you to Join With Us in our Mission. You can be an important part with the simplest of actions.